The United States Geography Championships was founded in order to provide American students with a way to qualify for the International Geography Olympiad (iGeo). The 2024 International Geography Olympiad will be held at the University of Maynooth, outside Dublin, Ireland, August 19-24.
Tell me more about how I can qualify to take part in the International Geography Olympiad!
Sure! The top four students on the 2024 USGC Varsity National Championships will constitute Team USA, with the fifth- and sixth-place students as alternates. More information on the exam can be found here.
The International Geography Olympiad is an international tournament for high school students from around the world, which is organized by the International Geography Union, a global professional organization of geographers. The first iGeo was held in The Hague, Netherlands in 1996 – other iGeos have since been held in Portugal, Korea, South Africa, Poland, Australia, Tunisia, Taiwan, Germany, China, Russia, Serbia, Canada, Hong Kong, and Indonesia.
Jason Flowers, a teacher and academic team coach at the Liberal Arts and Sciences Academy in Austin, TX, who has coached Team USA since 2015 will return as head coach in 2024. Steve Muench, a social studies teacher in Leonia, NJ who has coached since 2017 will return to co-coach in 2024.
Please note that only Varsity students in the 2023-2024 academic year (i.e. students born before July 1, 2008) who are enrolled in a high school in the 2023-2024 academic year are eligible to qualify for Team USA for the 2024 iGeo, in accordance with iGeo's eligibility rules.
All participating countries send four students to compete, but the entire competition is done on an individual basis. All students will compete in a multi-media multiple choice exam, a short-answer exam, and a fieldwork exercise. There is also a poster competition, as well. The students with the top overall scores, factoring in each part of the competition receive medals, and the top performing countries are recognized as well.
Subsequent iGeos will be held in Bangkok, Thailand (2025) and Istanbul, Turkey (2026).
For more information on the International Geography Olympiad in general, see the iGeo homepage as well as the iGeo Wikipedia page.
Full results from previous iGeos can be found here.
How much will this cost?
Students and their families will generally need to cover their own flights to and from the iGeo host city, but USGC will cover up to $1000 in expenses per student (i.e. entry fees, coach flights and stipend, training camp costs, etc.) associated with attending iGeo. The balance of fees (most likely around $500-$1000) will need to be paid by students or their families. IAC will assist with fundraising as needed to help students defray the cost of attending iGeo.
Note: While the exact formula can vary a bit from year to year, typically 50% of students at iGeo receive medals. The top 1/12 receive gold medals, students finishing in the 2nd and 3rd twelfths receive silver medals, and students finishing in the 25th to 50th percentile receive bronze medals.
Past International Geography Olympiad Medalists from the USA and overall team finish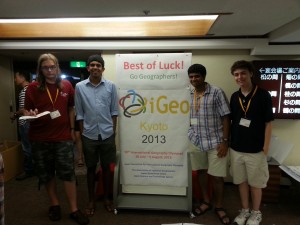 2023 – Bandung, Indonesia (177 total students): 7th out of 45 teams
Silver – Sumukh Venkatesh, Evergreen High School, California (29th Place overall)
Silver – Benjamin Tytell, Brookline High School, Massachusetts (36th Place overall)
Silver – Gideon Ong, A&M Consolidated High School, Texas (40th Place overall)
Silver – Daniel Meyer, Thomas Jefferson High School for Science & Mathematics, Virginia (42nd Place overall)
2022 – Online (206 total students): 8th out of 54 teams
Gold – Max Yang, Ladue Horton Watkins High School, Missouri (12th Place overall)
Silver – Dylan Rem, Malibu High School, California (23rd Place overall)
Silver – Miles Kottler, Beverly Hills High School, California (44th Place overall)
2021 – Online (179 total students): 12th out of 46 teams
Silver – Max Yang, Ladue Horton Watkins High School, Missouri (27th Place overall)
Silver – Alex Mitchell, Phillips Academy Andover, Massachusetts (35th Place overall)
Silver – Dylan Rem, Southampton High School, New York (48th Place overall)
Bronze – Elijah Conklin, Fox Chapel Area High School, Pennsylvania (96th Place overall)
Cancelled due to COVID-19
2019 – Hong Kong (165 total students): 2nd out of 43 teams
Gold – Albert Zhang, F.W. Buchholz High School, Florida (Overall World Champion)
Silver – Kevin Lu, Richard Montgomery High School, Maryland (17th Place overall)
Bronze – Daniel Ma, Hunter College High School, New York (5oth Place overall)
Bronze – Elys Anaya, Archimedean Upper Conservatory, Florida (56th Place overall)
2018 – Quebec City, Canada (165 total students): 3rd out of 43 teams
Gold – Kyle Yu, Westlake High School, Ohio (7th Place overall)
Gold – Benjamin Benjadol, Trinity High School, Texas (14th Place overall)
Silver – Kevin Lu, Richard Montgomery High School, Maryland (34th Place overall)
Silver – Daniel Ma, Hunter College High School, New York (40th Place overall)
2017 – Belgrade, Serbia (159 total students): 3rd out of 41 teams
Gold – Martin Rakowszczyk, Wootton High School, Maryland (12th Place overall)
Silver – AJ Manning, Bartow IB High School, Florida (20th Place overall)
Silver – Kyle Yu, Westlake High School, Ohio (22nd Place overall)
Silver – Jakob Myers, Naperville North High School, Illinois (40th Place overall)
2016 – Beijing, China (173 total students): 7th out of 45 teams
Gold – AJ Manning, Bartow IB High School, Florida (8th Place overall)
Gold – Eugene Wang, BASIS Tucson North, Arizona (9th Place overall)
Silver – Matthew Janson, Providence High School, North Carolina (20th Place overall)
2015 – Tver, Russia (159 total students): tied for 12th out of 40 teams
Gold – James Mullen, Monta Vista High School, California (3rd Place overall)
Gold – Kevin Li, Westview High School, California (7th Place overall)
2014 – Krakow, Poland (144 total students): 10th out of 36 teams
Gold – James Mullen, Monta Vista High School, California (Overall World Champion)
Silver – Anton Karpovich, Illinois Math and Science Academy, Illinois (36th Place overall)
Bronze – Tine Valencic, Grapevine High School, Texas
2013 – Kyoto, Japan (128 total students): 14th out of 32 teams
Bronze – Joe Kiernan, Moorestown Friends School, New Jersey
Bronze – Nirav Ilango, Chattahoochee High School, Georgia
Bronze – Anton Karpovich, Illinois Math and Science Academy, Illinois